14 tags
16 tags
Danica Patrick: One Fast Woman!
Cheers to fast women! Usually people snicker when they hear the words "fast" and "women" in one sentence, but this fast woman is no joke. I saw her on CNN just this morning sharing her news with the entire world. Danica Patrick, race car driver, just won the poll position of the 55th Daytona 500 time trials, posting a lap of 196.434 mph making her the first female to do so in history. You may...
14 tags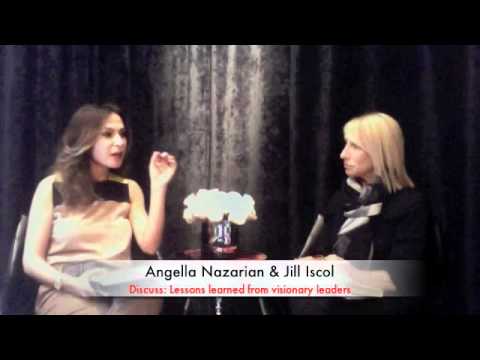 10 tags
How Vegas Changed the Way I Think About My Mom
"Well, I am sure I won't lose you in the airport with the color pants that you are wearing today!" That was my mom's way of greeting me - and my fuchsia pants - the day I met her at the airport to catch our flight to celebrate her 80th birthday in Las Vegas. Don't get me wrong. I took no offense. Us feisty women in the family have no qualms about teasing each other and poking fun of ourselves...
12 tags
Strong Women of the Week
For those of you who follow my blogs, you know that I had been in NY for another book event last week. It really is one of my favorite things to do—to connect with my readers and create a dialogue about topics that have meaning to me.  I was lucky enough to plan some meetings with some exceptional women during my stay in NY.  Pat Mitchell, who is a pioneering woman in every sense, (she was the...
22 tags
Whirlwind New York City Tour
It all started with a red eye flight to NY. "You must be out of your mind to start our such a busy week of book promotion with a red eye flight," everyone warned me.  But for someone like m, who needs very little sleep and is always scrambling for more time, the red eye flight was the answer! No bloodshot eyes or energy drinks for me…I was ready to go!  Part of the excitement comes from not...
19 tags
The BRAVE Collection: Where Fashion Becomes Social...
Fashion, jewelry and accessories have been used socially for generations to help others understand a part of our story. In some cases, it becomes like a second skin, reflecting our values, passions, interests, or industry. Whether artistic, formal, protective, casual or ever-changing — our fashions are always leaving clues and whispering hidden messages of who we are, or who we want to...
13 tags
The First Week of Pioneers of the Possible Book...
I woke up Tuesday morning especially early. For those of you who know me, it is of no surprise when you receive an email from me at 5:30 am!  For the past few years, I have been waking up automatically at 5am, and quite frankly this is the only time in the day that I feel I can get uninterrupted work done. So just imagine, here I was—wide awake at 4:30 in the morning, in the pitch dark—thinking...
14 tags
Carmen Amaya: Flamenco Dancer — Gypsy Queen
Swirling fabric at lightening speed, clicking heels and dramatic movements, Carmen Amaya, known both as a Spanish Gypsy dancer and singer, was electricity in human form. Her movements were magical, capturing her audiences, and catapulting them to an almost otherworldly place. Born in the Somorrostro slum of Barcelona in November of 1913, she would go on to inspire a generation of Flamenco...
11 tags
Margaret Thatcher: If You Want Anything Done, Ask...
"In politics, if you want anything said, ask a man — If you want anything done, ask a woman." — Margaret Thatcher 1982. Margaret Thatcher, known best as the 'Iron Lady' and former Prime Minister of Great Britain (from 1979-1990), will forever be remembered as the United Kingdom's most powerful Prime Minister since the days of Winston Churchill. She...
17 tags
Marchesa Casati: A Living Work of Art
When we think about pioneering women, we think of women who have broken boundaries in different arenas. But pioneering women have many faces. Take for example the first American dare devil woman, Annie Edson Taylor, who was the first person ever to go over Niagra Falls in a barrel. The good news is that she survived, and went on to make a career for herself.  Yes, you might wonder "what...
8 tags
Becoming an Ageless Joy-hunter
I will never forget that Wednesday afternoon in my writing class where a group of us writers were editing each other's work.  Samantha, a gorgeous woman with an effervescent personality, was sharing a chapter in her memoir.  Heads turned when we stumbled upon a paragraph describing her family life and kids. No, she was not a molester; she was not in an abusive relationship; she had a thirty-two...
11 tags
Transitions: Why is it So Tough to Get Through...
By Angella Nazarian It is late September and hundreds of wide-eyed freshman girls, all dressed up and huddled in groups of 4 or 5, are lined up UCLA's sorority row.  I take this road often and each fall I am reminded of when I was among those girls once. Nervous and excited, I found myself among thousands of people on a vast campus and I spent most of the first quarter figuring out what I was...
10 tags
The 'Woman in the Mirror'
It's been six years that I've been conducting women's workshops. And it was just recently that I sent out this intention into the universe "I want to talk about inspirational topics with women from all different walks of life."  What fuels my life is being around likeminded women who support me in figuring out who I am. So it was only a couple of months ago when I...